25. Kohei Tokita - 土岐田 洸平 - 16 Mar 1986 - 176cm / 72kg On 15 Jul 2010, went to Oita Trinita on loan until Jan 2011

I know, it's amazing, but here we are - Kohei Tokita is still an Ardija player. The thing is that Jang Wae Ryong obviously thinks he's good enough and that he can play well enough in more than one position and as such it's likely that Tokita will see first-team action both as a wingback and in the midfield - indeed the former is almost guaranteed, given the lack of cover elsewhere for Arata Sugiyama. Sigh.




26. Kazuhiro Murakami - 村上 和弘 - 20 Jan 1981 - 178cm / 74kg - NEW

One of the Squirrels' main signings over the winter, Murakami was a regular in a Kawasaki side that finished second in the league in 2009. And despite an official position as a midfielder, he is set to play on the left-hand side of defence as a replacement for Yasuhiro Hato. Ardija desperately need a more dynamic contribution from this part of the pitch, so let's hope that Murakami is the man to provide it.




27. Masakazu Kihara - 木原 正和 - 19 Apr 1987 - 164cm / 60kg - NEW

Hmmm, another tiny midfield player - smaller even than Chikara Fujimoto and Tomoya Uchida. Supporters were looking for Jang to strengthen the creative part of the side, but this is something he notably has not done. It would be fantastic if either Kihara, from Hannan University in Osaka, or Jun Kanakubo could make a real splash, but will either of them get the chance?




29. Seo Yong Duk - ソ ヨンドク - 10 Sep 1989 - 175cm / 63kg 07 Jul 10, LOANED TO FC TOKYO UNTIL JAN 11

A South Korean youth National Team member, brought in by Jang midway through the 2009 season. Like Takuya Aoki, Seo has spent time away with his international squad and the suspicion is that his presence at Omiya is more to do with Jang's own long-term ambitions as a would-be Olympic coach than anything else. It's not really clear what Seo adds to the squad.




33. Ryohei Arai - 新井 涼平 - 03 Nov 1990 - 183cm / 67kg

The tall skinny Arai was a rookie promoted from the Ardija Youth squad for 2009 and caused something of a sensation when Jang selected him as a member of the starting line-up for the opening match of the season. It was probably a case of too much too soon and Arai ended up being something of a bit player, but he may get the chance to fill in as a central defender if injuries and suspensions mount up.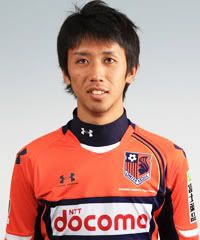 34. Taisuke Miyazaki - 宮崎 泰右 - 05 May 1992 - 167cm / 62kg - NEW

It seems as if there's one player every season who gets a pro contract from the Youth squad and for 2010 it's Miyazaki, still only seventeen at the start of the campaign. Even during the pre-season friendly games he only seemed to appear as an occasional substitute for the second string, so Miyazaki looks set for a year of bench-warming at the very best.


*