1. Takashi Kitano - 北野 貴之 - 04 Oct 1982 - 186cm / 80kg - NEW

Having spent four years as Albirex Niigata's first choice keeper, Kitano has been one of the most significant signings of the 09/10 close-season. The training matches on the Guam and Miyazaki camps would suggest that he is set to take over from Koji Ezumi as Jang Wae Ryong's number one and with a more than respectable record it is hard to argue with Kitano's stats. Fans will be hoping he constitutes a genuine step up in quality.




20. Daisuke Tada - 多田 大介 - 11 Aug 1982 - 185cm / 75kg - NEW

Tada moves to Saitama on loan from for the year from newly-promoted J1 rivals Cerezo Osaka and can be expected to be third choice. The 27-year-old is one of those J-Leaguers whose pro career stretches back a good number of seasons - to 2001, in fact - but who has played less than fifty games, half of which were on loan to J2 minnows Ehime FC. Doesn't seem to have played much in pre-season, so Tada could be injured.




21. Koji Ezumi - 江角 浩司 - 18 Dec 1978 - 191cm / 84kg

The arrival of Kitano looks like it spells major trouble for Ezumi, two-and-a-half years Omiya's undisputed main keeper. Arguably Player of the Year in 2008, last season was a little less convincing and there were a handful of occasions when errors from Ezumi cost the team goals. He seems to be a player who needs confidence to perform well and this could be tough to maintain throughout 2010 as a substitute.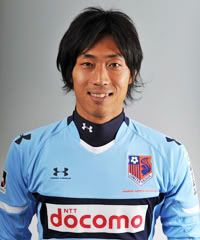 31. Keiki Shimizu - 清水 慶記 - 10 Dec 1985 - 183cm / 75kg

Signed two years ago from JFL side Ryutsu Keizai University and yet to make any impact whatsoever on the Squirrels first team. Presumably Shimizu will have set himself a target for the year like, "Try to be a substitute in a Nabisco Cup match," or something like that. GGOA's forecast is that at the end of 2010 he will be released and will go back to playing semi-pro in the JFL. I mean look at what happened to Nobuhisa Kobayashi.


*