1. Takashi Kitano - 北野 貴之 - 04 Oct 1982 - 186cm / 80kg

First choice for four years at Albirex Niigata, Kitano came to Omiya last winter and took over the goalkeeper's jersey from Koji Ezumi. He ended up a clear winner in the GGOA Player of the Year readers' vote. It wasn't a perfect season, but Kitano on balance made fewer errors than Ezumi: his shot-stopping, cross-catching and concentration are all good. Kitano is also able to control his penalty area and inspire confidence in the defenders around him - in other words, when fit he's a pretty much definite first-teamer.




21. Koji Ezumi - 江角 浩司 - 18 Dec 1978 - 191cm / 84kg

Now 32, previous Squirrels number one Ezumi is evidently happy enough to take a contract for the season knowing that, unless Takashi Kitano gets injured, he's set for a year sitting on the substitutes' bench and turning out only for Nabisco Cup matches. As such Ezumi represents a decent second choice - assuming he can retain his confidence and sharpness in the likely absence of much real first-team action.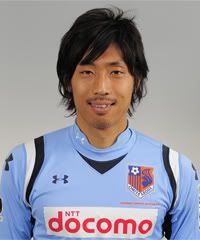 31. Keiki Shimizu - 清水 慶記 - 10 Dec 1985 - 183cm / 75kg

Signed three years ago from JFL side Ryutsu Keizai University and yet to make any impact whatsoever on the Squirrels first team. Presumably Shimizu will have set himself a target for the year like, "Try to be a substitute in a Nabisco Cup match." Actually he may have a better chance to do that because Ardija have reduced the number of goalkeepers in the squad from four to three, which by default sees him climb up the pecking order. 2011 could be Keiki Shimizu's year! I'm guessing it won't be though.


*